Attempting to load ROSCon Archive Listings.
ROSCon 2023
New Orleans, Louisiana
October 18th - 20th, 2023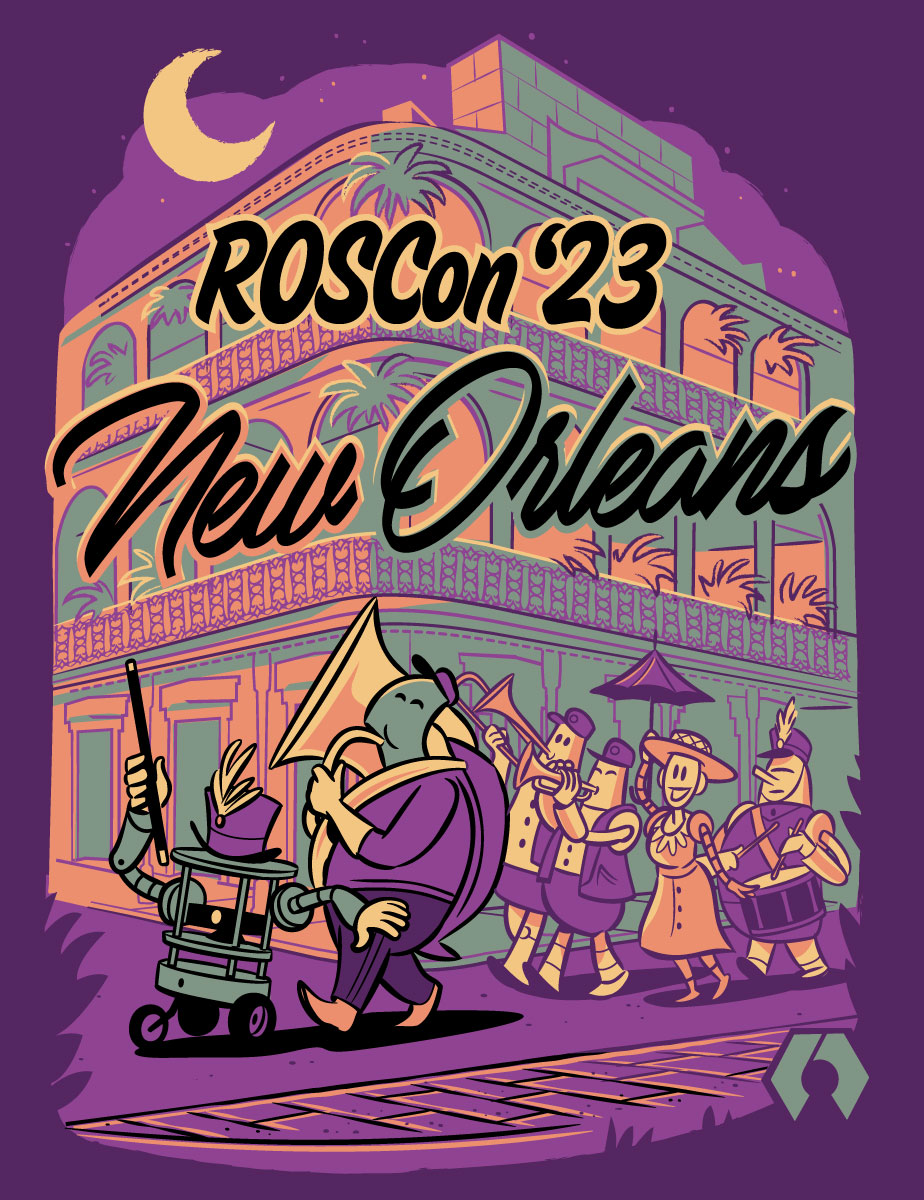 ROSCon 2023 will be held at the The New Orleans Hyatt Regency on October 18th through the 20th, 2023. ROSCon 2023 is a chance for ROS developers of all levels, beginner to expert, to spend an extraordinary two days learning from and networking with the ROS community. Get tips and tricks from experts and meet and share ideas with fellow developers.
ROSCon is a developers conference, in the model of PyCon and BoostCon. Following the success of our past events, this year's ROSCon will be our twelveth ROSCon and held in New Orleans, Louisiana, USA. Similar to previous years, the two-day program will comprise of technical talks and tutorials that will introduce you to new tools and libraries, as well as teach you more about the ones you already know. The bulk of the program will be 10-30 minute presentations (some may be longer or shorter) along with panel discussions, lightning talks, demonstrations, and workshops.
We aim for ROSCon to represent the entire ROS community, which is global and diverse. Whoever you are, whatever you do, and wherever you do it, if you're interested in ROS, then we want you to join us at ROSCon. We encourage women, members of minority groups, and members of other under-represented groups to attend ROSCon. We expect all attendees to follow our code of conduct.
If you have questions, concerns, or ideas for ROSCon 2023, please contact the executive committee
We also welcome suggestions for what else we can do to encourage more participation. Contact us if you have ideas that you'd like to share.
ROSCon 2023 Key Dates
Call for Proposals circulated
April 7th, 2023
Workshop submission deadline
May 7th, 2023
Diversity Scholarship application deadline
April 30th, 2023
Proposal submission deadline
July 9th, 2023
Proposal acceptance notification
August 17th, 2023
Early registration deadline
September 3rd, 2023
Late registration starts
October 1st, 2023
Sponsor ROSCon 2023!
We're presently putting together the sponsorship prospectus for ROSCon 2023. If you were previously a ROSCon sponsor we'll be sure to reach out to you when the prospectus is ready. If you've never sponsored ROSCon, or if you have questions or concerns, please contact the executive committee and we'll reach out when we're ready.
Getting to ROSCon 2023
Travel to New Orleans
Hotel Information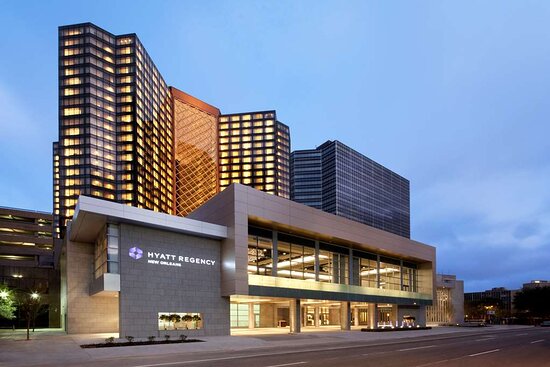 The New Orleans Hyatt Regency is the official event hotel and conference center. We have reserved a block of rooms for ROSCon attendees. Additional information regarding hotel registration will be posted shortly.
Organizing Committee
General Co-Chairs
Vanessa Yamzon Orsi (Open Source Robotics Foundation)
Geoff Biggs (Open Source Robotics Foundation)
Organizing Committee Members
Ryan Gariepy (Clearpath Robotics)
Brian Gerkey (Intrinsic.ai)
Tully Foote (Intrinsic.ai)
Communications Chair
Kat Scott (Intrinsic.ai)
Past Events
ROSCon has been held annually since 2012. If you'd like to know more we have archives of all the past programs with recordings of the talks and most of the slides. The sites can be found at the locations below.
Code of Conduct
All attendees, speakers, sponsors and volunteers at our conference are required to agree with the following code of conduct. Organisers will enforce this code throughout the event. We expect cooperation from all participants to help ensure a safe environment for everybody.
The Quick Version
Our conference is dedicated to providing a harassment-free conference experience for everyone, regardless of gender, gender identity and expression, age, sexual orientation, disability, physical appearance, body size, race, ethnicity, religion (or lack thereof), or technology choices. We do not tolerate harassment of conference participants in any form. Sexual language and imagery is not appropriate for any conference venue, including talks, workshops, parties, Twitter and other online media. Conference participants violating these rules may be sanctioned or expelled from the conference without a refund at the discretion of the conference organizers.
The Less Quick Version
Harassment includes offensive verbal comments related to gender, gender identity and expression, age, sexual orientation, disability, physical appearance, body size, race, ethnicity, religion, technology choices, sexual images in public spaces, deliberate intimidation, stalking, following, harassing photography or recording, sustained disruption of talks or other events, inappropriate physical contact, and unwelcome sexual attention.
Participants asked to stop any harassing behavior are expected to comply immediately.
Sponsors are also subject to the anti-harassment policy. In particular, sponsors should not use sexualised images, activities, or other material. Booth staff (including volunteers) should not use sexualized clothing/uniforms/costumes, or otherwise create a sexualised environment.
If a participant engages in harassing behavior, the conference organisers may take any action they deem appropriate, including warning the offender or expulsion from the conference with no refund.
If you are being harassed, notice that someone else is being harassed, or have any other concerns, please contact a member of conference staff immediately. Conference staff can be identified as they'll be wearing badges as well as there will be staff at the registration desk.
Conference staff will be happy to help participants contact hotel/venue security or local law enforcement, provide escorts, or otherwise assist those experiencing harassment to feel safe for the duration of the conference. We value your attendance.
We expect participants to follow these rules at conference and workshop venues and conference-related social events.
Social Media