ROSCon will happen October 31st - November 1st, 2019 in Macau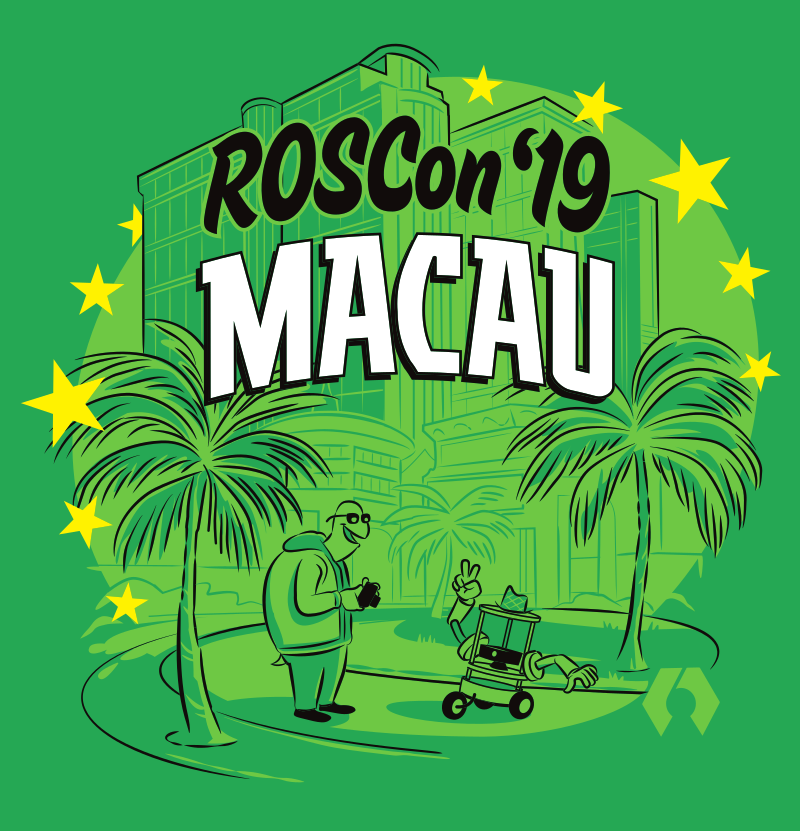 ROSCon 2019
ROSCon 2019 is a chance for ROS developers of all levels, beginner to expert, to spend an extraordinary two days learning from and networking with the ROS community. Get tips and tricks from experts and meet and share ideas with fellow developers.
ROSCon is a developers conference, in the model of PyCon and BoostCon. Following the success of the past six annual ROSCons, this year's ROSCon will be held in Macau. Similar to previous years, the two-day program will comprise technical talks and tutorials that will introduce you to new tools and libraries, as well as teach you more about the ones you already know. The bulk of the program will be 10-30 minute presentations (some may be longer or shorter).
We aim for ROSCon to represent the entire ROS community, which is global and diverse. Whoever you are, whatever you do, and wherever you do it, if you're interested in ROS, then we want you to join us at ROSCon. We encourage women, members of minority groups, and members of other under-represented groups to attend ROSCon. We expect all attendees to follow our code of conduct.
The ROSCon planning committee acknowledges that the barriers to attendance for traditionally under-represented groups may be many and varied, and we are striving throughout the planning process to make the event as inclusive and accessible as possible. This year we are proud to continue the ROSCon Diversity Scholarship to help make ROSCon 2019 more representative of the global ROS community.
We also welcome suggestions for what else we can do to encourage more participation. Contact us if you have ideas that you'd like to share.
If you don't want to make a formal presentation, you should still bring your new project or idea to ROSCon and present it in a lightning talk.
There will be an opportunity to give a lightning talk at ROSCon. These are 2-3 minute talks, one session each day (3 minutes in the past but this may be reducing to 2.5 or 2 minutes this year). We expect to have many more people who want to present than slots are available. For fair access there will be a lottery for requesting to give a lightning talk. A summary of the process is in the Call for Proposals Talks from 2016 can be seen in this blog post or browse the recordings from past years.
There will also be open space for impromptu hacking sessions and informal presentations.
If you are looking for information on past ROSCons, including past programs, slides and videos of the presentations, see their separate websites.
Important dates to keep in mind for ROSCon 2019.
Call for Proposals circulated
April 22nd, 2019
Diversity Scholarship application deadline
June 2nd, 2019
Proposal submission deadline
July 15th, 2019
Proposal acceptance notification
July 29th, 2019
Early registration deadline
August 24th, 2019
Late registration starts
October 1st, 2019
ROSCon 2019 in Macau.
October 31st - November 1st, 2019
Become a ROSCon 2019 sponsor! Check the sponsor prospectus for this year's benefit packages.
Whether you're ready to commit to a specific level or have a question or special request regarding the sponsorship program, please contact the organizing committee.
Platinum Sponsor
Gold Sponsors
Silver Sponsors
Bronze Sponsors
Friends of the Conference
Diversity Scholarship Sponsors
The following sponsors are supporting the ROSCon Diversity Program, which is designed to enable participation in ROSCon by those typically underrepresented in the robotics community to make the conference a more fulfilling experience for all attendees. To get a sense of the impact of prior years' programs, which funded travel and lodging costs for dozens of scholars from around the world, we encourage you to watch this 2016 lightning talk from Ahmed Abdalla and Husam Salih, two students at the University of Khartoum in Sudan who talked about starting a robotics lab under extremely challenging conditions.
If you are interested in finding out more about sponsoring ROSCon please contact the organizing committee. Or view our sponsor prospectus.
Venue
Conrad Macao, Cotai Central
The event will be held at the Conrad Macao, Cotai Central.
Registration
Registration for ROSCon 2019 is now open.
Note that the early registration deadline is August 24th, 2019 or until supplies run out. For information registering please visit the registration page
Hotel
The Parisian
The Parisian is the official hotel of ROSCon 2019 held in Macau October 31 – November 1, 2019. Your reservation at the Parisian supports the conference as the group block provides incentives and reductions in rental fees that enable us to provide you with the quality that ROSCon is known for while maintaining affordable registration rates.
The Parisian is the premier 5-star destination resort located in the center of the Cotai Strip Area. A 5 minute drive away from Macao International Airport and Taipa Ferry Terminal and a 20 minutes drive away from Macao Ferry Terminal and Macao city center. During your stay, you may enjoy the charming sight of the Eiffel Tower or enjoy one of the many restaurants in the hotel which serve international cuisine with exquisite dishes.
Reservations
Rooms at the discounted group rate are available until October 1, 2019 or until they sell out, whichever occurs first.
Room Rates:
Deluxe King: $1250 HKD/ night + 15%* taxes and fees. (Approx $159.29 USD + 15% taxes and fees)
Deluxe Double: $1400 HKD/ night + 15%* taxes and fees. (Approx $179.29 USD + 15% taxes and fees)
*15% is the rate as of February 10, 2019 and is subject to change.
Check in: 3:00 PM
Check out: 11:00 AM
Making a reservation:
Reserve Online You may only reserve the nights of October 30 and October 31 via the online link. If you would like to also reserve a room on Friday, November 1, please call or email the hotel directly.
Call: Reservation can be made via phone at 853 2882 8852.
Email: Reservation can also be emailed to group.reservations@sands.com.mo with reservation's details.
Please note that guests must mention group code # PGROSCN14 and group name ROSCon 2019 when making reservation.
Cancellation Policy:
Guest will be responsible for all fees associated with their room reservation for any no show, shorten stay or cancellations received after cut-off date 5 Oct 2019.
Map
Here's a map with the location of the Hotel and the Venue indicated. There is a short walk between them.
Getting There
The nearest airport is Macau International Airport (IATA: MFM, ICAO: VMMC).
The Parisian, the official ROSCon hotel, provides a complimentary 5-minute shuttle to the venue. The shuttle runs from 10:00 - 22:30 every 15 - 20 minutes. View the shuttle schedule
View the Parisian website for additional transportation options or the Government of Macau's website for helpful travel information.
Childcare Options
Guests of the Parisian are able to source child care through the hotel. If you require childcare, please complete the form and submit the completed form to the priority service desk in the Parisian Macao hotel lobby when you arrive at the hotel.
Childcare services require a 4 hour advance notice to reserve. To confirm a reservation, call the hotel's front desk 853-2882-8852 in advance of your arrival onsite or call hotel's Priority Service Center from your room phone.
ROSCon 2018 and the Open Source Robotics Foundation do not guarantee or make warranties for the provider and assume no liability by providing this reference.
Explore Macau
Macau has a rich and vibrant history, originally settled by the Portuguese in the mid 16th century. In 1999, Macao became a Special Administrative Region of the People's Republic of China. Take a few minutes and read a brief history of this fascinating location.
Come early or stay late for sightseeing, world class dining, and shopping.
Weather
Please be check the weather and be prepared before you depart.
For historical data you can see here.
The current weather is here.
Currency
The official currency of Macao is the Macanese Patacas (MOP). The Hong Kong Dollars (HKD) is also widely accepted.
Visa Requirements
There are currently 76 countries exempt from visa or entry permits.
Attendees from Bangladesh, Nepal, Nigeria, Pakistan, Sri Lanka, and Vietnam must apply for a pre-arrival visa and entry permit.
For attendees from countries not included on the list of exempted countries or the countries requiring pre-approval, you may purchase an entry permit upon arrival.
It is the attendees responsibility to confirm the visa requirements from their country of origin.
Program TBA
The full details of the program will be announced after the proposal submissions have been selected. Until July 15th, 2019 we encourage you to submit your proposal. For planning purposes here's the expected start and end times each day.
Day 1, October 31st
| Time | Presenter(s) | Title | Abstract | Resources |
| --- | --- | --- | --- | --- |
| 7:30 | Everyone | Registration open | Please arrive early to allow time to collect your badge and conference bag before the presentations start. We expect there to be a queue for registration on the first day. |   |
| 9:00 |   | Opening Remarks |   |   |
| 18:00 | Everyone | Reception |   |   |
| 20:00 |   | Fin |   |   |
Day 2, November 1st
| Time | Presenter(s) | Title | Abstract | Resources |
| --- | --- | --- | --- | --- |
| 8:30 | Everyone | Registration open |   |   |
| 9:00 |   | First Talk |   |   |
| 17:25 |   | Closing Remarks |   |   |
| 17:35 |   | Fin |   |   |
The CFP has not been posted yet.
Organizing Committee
General Chair
Brian Gerkey (Open Robotics)
General Co-Chairs
Tully Foote (Open Robotics)
Ryan Gariepy (Clearpath Robotics)
Diversity Co-Chairs
Louise Poubel (Open Robotics)
Steven! Ragnarök (Open Robotics)
Finance Chair
Roberta Friedman (Open Robotics)
Local Arrangements Co-Chairs
Jenssen Chang (Gaitech Robotics)
Binhai Tony Wang (Tony Robotics)
Wu Nai Qi (Macau University of Science and Technology)
Program Co-Chairs
David Lu!! (Locus Robotics)
Melonee Wise (Fetch Robotics)
ROSCon 2019 Diversity Scholarships
The ROSCon 2019 organizing committee aims for ROSCon to represent the entire ROS community, which is diverse and global. In addition to promoting technology that is open source, we also strive to ensure that our communities themselves are as open and accessible as possible, since we recognize that diversity benefits the ROS ecosystem as a whole.
Whoever you are, whatever you do, and wherever you do it, if you're interested in ROS, then we want you to join us at ROSCon. To help reduce the financial barriers to conference attendance, the ROSCon organizing committee is offering a number of scholarships to members of traditionally underrepresented groups in the tech community. Thanks to the support of the program's sponsors, these scholarships each include a complimentary conference registration pass and three nights' accommodation shared with another recipient. Limited travel support is available for participants whose travel to the conference would otherwise be infeasible. Please note that all other expenses (including any visa requirements) will be the responsibility of the participant.
For more information please see the announcement.
Past Events
ROSCon has been held annually since 2012. If you'd like to know more we have archives of all the past programs with recordings of the talks and most of the slides. The sites can be found at the locations below.
Code of Conduct
To ensure a safe environment for everybody we expect all participants to follow the conference code of conduct.
Social Media