Attempting to load ROSCon Archive Listings.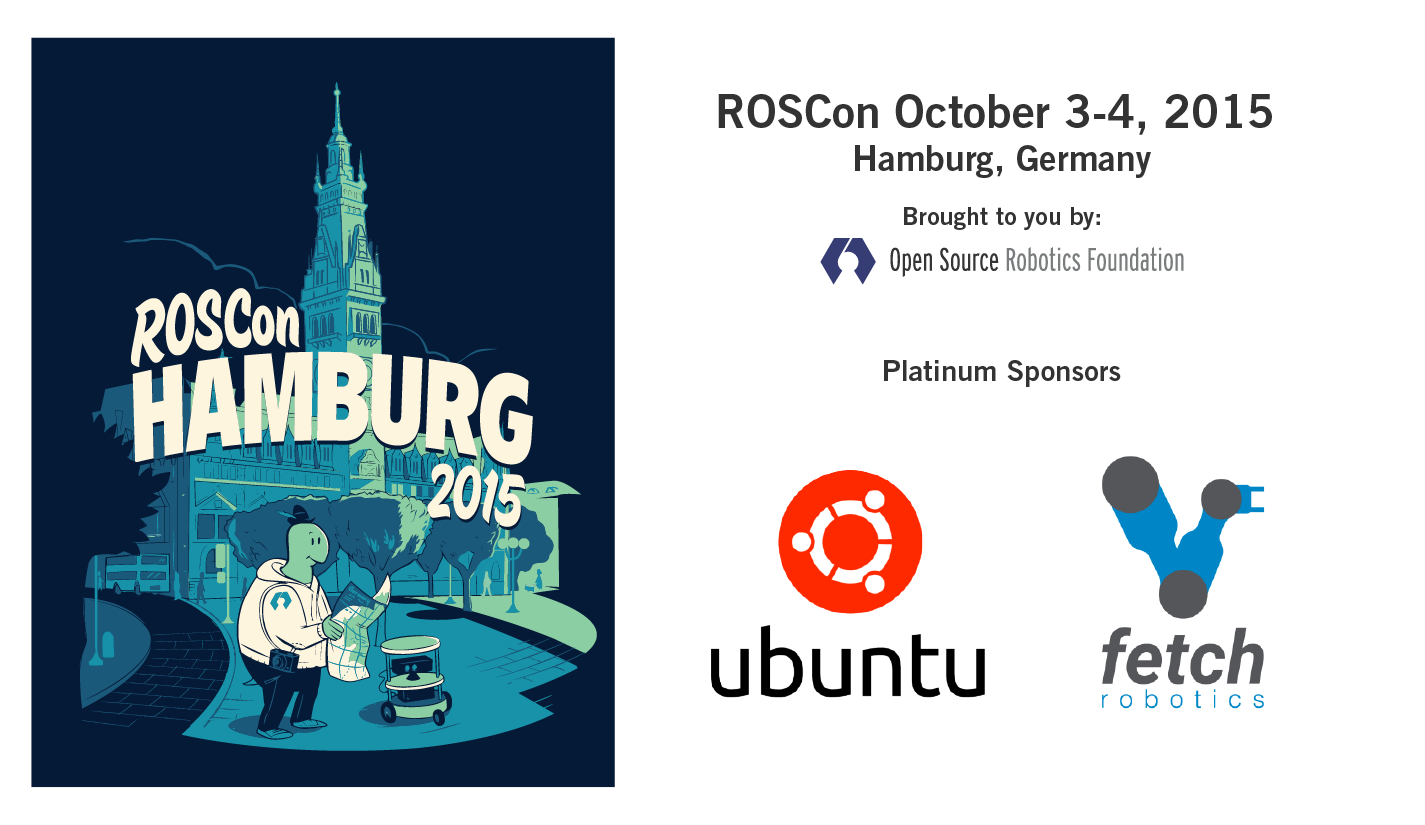 Registration
In a first for ROSCon, we are sold out! Due to the capacity limit of the venue, we will not be able to accommodate any more attendees. We will not be offering on-site registration.
Live Streaming

We'll live-stream the ROSCon presentations online, free of charge:
If you'd like to discuss it online there is a Slack Channel which we will try to monitor at the event. If you don't have a rosorg Slack account you can register here And if you're using social media please use #ROSCon2015.
We're able to offer this benefit to the community thanks to generous sponsorship from our friends at Qualcomm. So if you can't join us in person in Hamburg, you can follow along online. We will also be recording the presentations and posting them afterward, as we've always done.
ROSCon 2015
ROSCon 2015 is a chance for ROS developers of all levels, beginner to expert, to spend an extraordinary two days learning from and networking with the ROS community. Get tips and tricks from experts and meet and share ideas with fellow developers from around the globe.
ROSCon is a developers conference, in the model of PyCon and BoostCon. Following the success of the inaugural ROSCon in St. Paul, Minnesota, the second version in Stuttgart, Germany, last years event in Chicago, Illinois, this year's ROSCon will be held in Hamburg, Germany. Similar to previous years, the two-day program will comprise technical talks and tutorials that will introduce you to new tools and libraries, as well as teach you more about the ones you already know. The bulk of the program will be 30-40 minute presentations (some may be longer or shorter). To submit a proposal please read the Call for Proposals.
If you don't want to make a formal presentation, you should still bring your new project or idea to ROSCon! There will be sessions of Lightning Talks, which are 5-minute mini-talks that are scheduled just-in-time at the conference. There will also be open space for Birds-of-a-Feather (BoF) meetings, impromptu hacking sessions, and informal presentations.
If you are looking for information on past ROSCons see their separate websites including past programs, slides and videos of the presentations are available from their programs: ROSCon 2012 Program, ROSCon 2013 Program, and ROSCon 2014 Program.
As more information becomes available this years program will be filled out here.
Important dates to keep in mind for ROSCon 2015.
Call for Proposals circulated
May 15th, 2015
Proposal submission deadline
July 7th, 2015
Proposal acceptance notification
July 14th, 2015
Early registration deadline
August 31st, 2015
ROSCon 2015 in Hamburg Germany
October 3rd-4th, 2015
We couldn't put on ROSCon without the generous support of our sponsors. If you'd like to know more about them, please find them at the event.
Platinum Sponsors

Gold Sponsors

Silver Sponsors
If you are interested in finding out more about sponsoring ROSCon please contact the organizing committee. Or view our sponsor prospectus.
ROSCon will be held at the University of Hamburg.
The buildings for the main event and lunch can be found in the map below.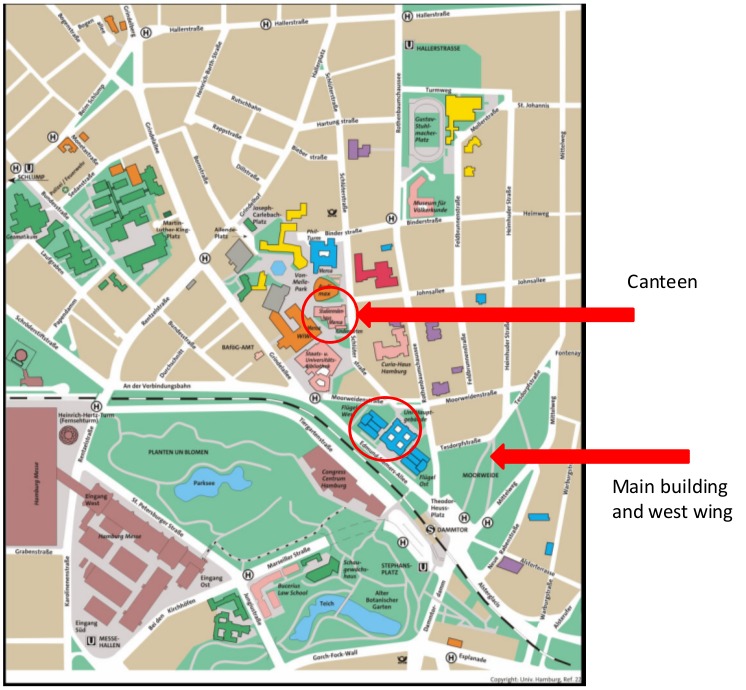 Nearby Hotels
There are many options near the venue where you might stay. Here are links to a few near the venue.
Hotels
Boutique/B&B Style
Invitation letters for visas
If you require an invitation from the conference organizers to obtain a visa to enter Germany, please email your request to the organizing committee. Please include your full name and mailing address (for inclusion in the letter; we'll email you the signed letter).
The Program for ROSCon 2015 is now available!
ROSCon 2015 will be a single track conference. Following review and discussion by the Program Committee, the 21 presentations listed below were accepted from among 70 submissions (30% acceptance rate). There will also be lightning talks and Birds-Of-a-Feather sessions, as well as many opportunities to informally talk with other community members.
Day 1, October 3rd
Time
Presenter
Title
Presentation
0900
Brian Gerkey
Opening Remarks
pdf video
0910
Mark Shuttleworth (Canonical)
Commercial models for the robot generation
pdf video
10.36288/ROSCon2015-900751
0955
Stefan Kohlbrecher (Technische Universitaet Darmstadt)
An Introduction to Team ViGIR's Open Source Software and DRC Post Mortem
pdf video

10.36288/ROSCon2015-900750
1040
Everyone
Coffee Break
 
1110
Gary Servin (Creativa77)
ROS android_ndk: What? Why? How?
pdf video

10.36288/ROSCon2015-900749
1130
Lorenz Meier (ETH Zurich and PX4), Roman Bapst (ETH Zurich and PX4)
ROS on DroneCode Systems
video

10.36288/ROSCon2015-900748
1150
Morgan Quigley (OSRF)
ROS 2 on "small" embedded systems
pdf video

10.36288/ROSCon2015-900747
1210
Everyone
Lunch
 
1340
Ruffin White (Institute for Robotics & Intelligent Machines at Georgia Tech)
ROS + Docker: Enabling Repeatable, Reproducible, and Deployable robotic software via Linux Containers
pdf video

10.36288/ROSCon2015-900746
1400
Dejan Pangercic (Robert Bosch), Daniel Di Marco (Robert Bosch), Arne Hamann (Robert Bosch)
Docker-based ROS Build Farm
pdf video

10.36288/ROSCon2015-900745
1420
Ralph Seulin (CNRS - Univ. Bourgogne Franche-Comte), Raphael Duverne (CNRS - Univ. Bourgogne Franche-Comte), Olivier Morel (CNRS - Univ. Bourgogne Franche-Comte), et al.
ROS for education and applied research: practical experiences
pdf video

10.36288/ROSCon2015-900744
1440
Everyone
Lightning Talks I
video
1520
Everyone
Birds Of a Feather I
 
1600
Everyone
Coffee Break
 
1630
Dirk Thomas (OSRF), Esteve Fernandez (OSRF), William Woodall (OSRF)
State of ROS 2 - demos and the technology behind
pdf video

10.36288/ROSCon2015-900743
1715
Jackie Kay (OSRF), Adolfo Rodríguez Tsouroukdissian (PAL Robotics)
Real-time Performance in ROS 2
pdf video

10.36288/ROSCon2015-900742
1800
Everyone
Reception
 
2000
 
Fin
 
Day 2, October 4th
Time
Presenter
Title
Presentation
0900
Dave Coleman (University of Colorado Boulder)
MoveIt! Strengths, Weaknesses, and Developer Insight
pdf video

10.36288/ROSCon2015-900741
945
Mirko Bordignon (Fraunhofer IPA), Shaun Edwards (SwRI), Clay Flannigan (SwRI), et al.
Bringing ROS to the factory floor: a status report on the ROS-Industrial initiative
pdf video

10.36288/ROSCon2015-900740
1030
Everyone
Coffee Break
 
1100
Kai von Szadkowski (University of Bremen)
Phobos - Robot Model Development on Steroids
pdf video

10.36288/ROSCon2015-900739
1120
Shaun Edwards (SwRI), Jorge Nicho (SwRI), Jonathan Meyer (SwRI)
The Descartes Planning Library for Semi-Constrained Cartesian Trajectories
pdf video

10.36288/ROSCon2015-900738
1140
Amit Moran (Intel), Gila Kamhi (Intel)
Introducing ROS-RealSense: 3D empowered Robotics Innovation Platform
pdf video

10.36288/ROSCon2015-900737
1200
Everyone
Lunch
 
1330
Michael Aeberhard (BMW Group Research and Technology), Thomas Kühbeck (BMW Group Research and Technology), Bernhard Seidl (BMW Group Research and Technology), et al.
Automated Driving with ROS at BMW
pdf video

10.36288/ROSCon2015-900736
1350
Jerry Towler (SwRI), Marc Alban (SwRI)
Mapviz: An Extensible 2D Visualization Tool for Automated Vehicle
pdf video

10.36288/ROSCon2015-900735
1410
Matt Vollrath (End Point), Wojciech Ziniewicz (End Point)
ROS-driven user applications in idempotent environments
pdf video

10.36288/ROSCon2015-900734
1430
Everyone
Lightning Talks II
video
1510
Everyone
Birds Of a Feather II
 
1550
Everyone
Coffee Break
 
1620
Tom Moore (Clearpath Robotics)
Working with the robot_localization Package
pptx pdf video

10.36288/ROSCon2015-900733
1640
Moritz Tenorth (Magazino GmbH), Ulrich Klank (Magazino GmbH), Nikolas Engelhard (Magazino GmbH)
Maru and Toru: Item-specific logistics solutions based on ROS
pdf video

10.36288/ROSCon2015-900732
1700
Michael Ferguson (Fetch Robotics)
Accelerating Your Robotics Startup with ROS
video

10.36288/ROSCon2015-900731
1720
Ryan Gariepy
Closing Remarks
video
1730
 
Fin
 
Proposal submission deadline: July 7th, 2015
Presentations and tutorials on all topics related to ROS are invited. Examples include introducing attendees to a ROS package or library, exploring how to use tools, manipulating sensor data, and applications for robots.
Proposals will be reviewed by a program committee that will evaluate fit, impact, and balance.
We cannot offer sessions that are not proposed! If there is a topic on which you would like to present, please propose it. If you have an idea for an important topic that you do not want to present yourself, please post it to ros-users@lists.ros.org.
Topic areas
All ROS-related work is invited. Topics of interest include:
Best practices
Useful packages and stacks
Robot-specific development
ROS Enhancement Proposals (REPs)
Safety and security
ROS in embedded systems
Product development & commercialization
Research and education
Enterprise deployment
Community organization and direction
Testing, quality, and documentation
Robotics competitions and collaborations
Proposal submission
A session proposal should include:
Title
Recommended duration: Short (~20 minutes) or Long (~45 minutes)
Summary, 100 word max (to be used in advertising the session)
Description (for review purposes): outline, goals (what will the audience learn?), pointers to packages to be discussed (500 Words Maximum)
Organizing Committee
Tully Foote
Ryan Gariepy
Brian Gerkey
Sebastian Rockel
Past Events
ROSCon has been held annually since 2012. If you'd like to know more we have archives of all the past programs with recordings of the talks and most of the slides. The sites can be found at the locations below.
Code of Conduct
To ensure a safe environment for for everybody we expect all participants to follow the conference code of conduct.
Social Media