News
Thank you for joining us for ROS World 2021!

We're happy to announce that ROSCon 2022 will take place October 19th to 21st in Kyoto, Japan!
Attempting to load ROSCon Archive Listings.
ROS World will happen October 20th, and 21st!
Join us Online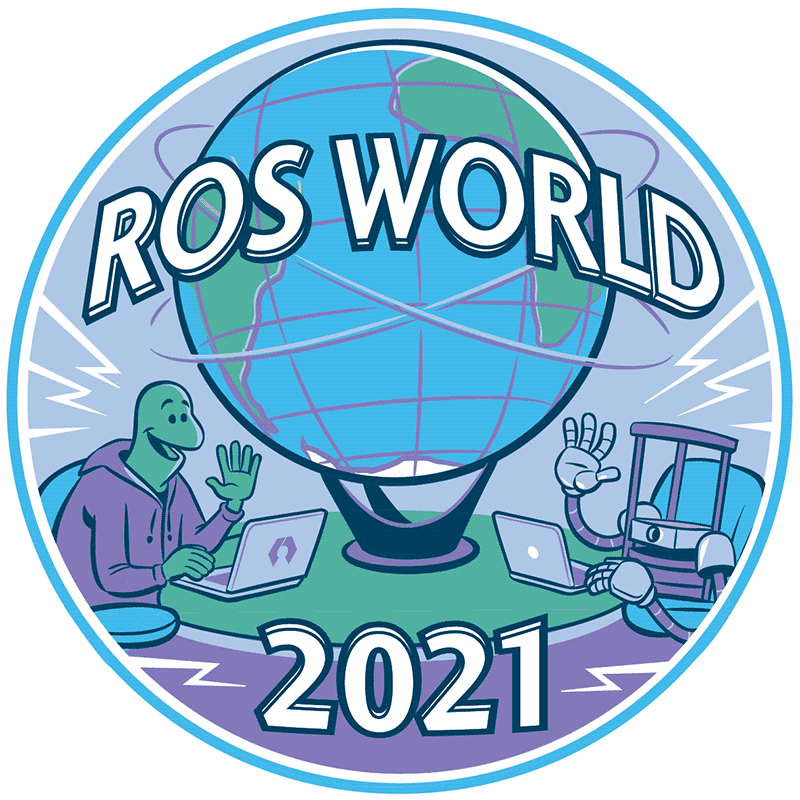 ROS World 2021
ROS World 2021 is a chance for ROS developers of all levels, beginner to expert, to spend an extraordinary two days learning from and networking with the ROS community. Get tips and tricks from experts and meet and share ideas with fellow developers.
ROS World is a developers conference, in the model of PyCon and BoostCon. Following the success of the past ROSCons, this year's ninth annual ROS World will be held online. Similar to previous years, the two-day program will comprise technical talks and tutorials that will introduce you to new tools and libraries, as well as teach you more about the ones you already know. The bulk of the program will be 10-30 minute presentations (some may be longer or shorter).
We aim for ROS World to represent the entire ROS community, which is global and diverse. Whoever you are, whatever you do, and wherever you do it, if you're interested in ROS, then we want you to join us at ROS World. We encourage women, members of minority groups, and members of other under-represented groups to attend ROS World. We expect all attendees to follow our code of conduct.
The ROS World planning committee acknowledges that the barriers to attendance for traditionally under-represented groups may be many and varied, and we are striving throughout the planning process to make the event as inclusive and accessible as possible. This year we are proud to continue the ROS World Diversity Scholarship to help make ROS World 2021 more representative of the global ROS community.
We also welcome suggestions for what else we can do to encourage more participation. Contact us if you have ideas that you'd like to share.
If you don't want to make a formal presentation, you should still bring your new project or idea to ROS World and present it in a lightning talk.
There will be an opportunity to give a lightning talk at ROS World. These are 2-3 minute talks, one session each day (3 minutes in the past but this may be reducing to 2.5 or 2 minutes this year). We expect to have many more people who want to present than slots are available. For fair access there will be a lottery for requesting to give a lightning talk. Talks from 2016 can be seen in this blog post or browse the recordings from past years.
There will also be open space for impromptu hacking sessions and informal presentations.
If you are looking for information on past ROSCons, including past programs, slides and videos of the presentations, see their separate websites.
During difficult times it is always good to remain optimistic; therefore in January, on the heels of multiple announcements about effective Covid-19 vaccines, we decided to move forward with plans to return to an in person ROSCon in 2021. Our plans included contingencies to scale up or scale down ROSCon based on the public health situation; as we were fairly confident that in-person gatherings could be done safely.
While the US has made great progress in the fight against Covid-19 we are once again seeing a massive surge in Covid-19 cases. The situation in New Orleans is particularly grim, and multiple large events such as Jazz Fest and French Quarter Fest have recently been canceled due to the rapid rise in Covid-19. These cancelations have coincided with the renewal of an emergency declaration for the state of Louisiana. Even with appropriate safety measures in place it simply isn't a suitable time to gather in large groups in Louisiana. As such we have decided that the most prudent course of action is to cancel the in-person ROSCon.
But, we are still having a conference! Instead of the in-person ROSCon 2021, we will host our second virtual event, ROS World 2021, Oct 20-21! If you were able to attend ROS World last year, you know how engaging and vibrant an online ROS event can be, with thousands of attendees from across the globe. We hope that you'll join us for ROS World this year!
We're still coordinating with our sponsors, speakers, and staff to create ROS World 2021. We'll be releasing more information in the coming weeks as our plans come together. At this point you may be asking how these changes may impact you; here's what we can tell you right now:
Attendees / Current Ticket Holders – we'll be reaching out to you soon. We'll refund / exchange your tickets and work with the conference hotel to cancel your rooms.

Speakers – your talks are important to us and the ROS community – we still want to hear about your progress! Our team will be reaching out to ROSCon speakers to coordinate taking their talks virtual at ROS World.

Workshops – We're working on a plan to take the workshops on-line and keep the experience engaging. We'll have more details shortly.

Sponsors – we appreciate your support! We know your priority is engaging with the ROS community. We will work with you regarding your options and sponsorship packages that suit your needs. You should have already received an e-mail with details about the new event.
We're planning ROS World 2021 as a two-day event; each day starts with a common shared session and then breaks into parallel tracks. The overall program will include most of the planned content from ROSCon. We're also planning to add some community events to encourage socializing between members of the ROS community. We would love to hear your feedback about what sort of events you would like to see. Please reach out to us at roscon-2021-ec@openrobotics.org.
We know this is not the outcome we all had hoped for. We truly appreciate everyone's support and patience as we put together our second virtual ROS World event.
I Need More Help!
If you have questions or concerns related to the cancellation of ROSCon 2021 please e-mail roscon-2021-ec@openrobotics.org.
Important dates to keep in mind for ROS World 2021.
Call for Proposals circulated
April 7th, 2021
Workshop submission deadline
May 7th, 2021
Diversity Scholarship application deadline
July 16th, 2021
Proposal submission deadline
July 9th, 2021
Proposal acceptance notification
August 17th, 2021
Thank You to Our ROSWorld 2021 Sponsors!
Platinum Sponsor
Gold Sponsors
Silver Sponsors
Bronze Sponsors
Friends of the Conference
Diversity Scholarship Sponsors
The following sponsors are supporting the ROS World Diversity Program, which is designed to enable participation in ROS World by those typically underrepresented in the robotics community to make the conference a more fulfilling experience for all attendees. To get a sense of the impact of prior years' programs, which funded travel and lodging costs for dozens of scholars from around the world, we encourage you to watch this 2016 lightning talk from Ahmed Abdalla and Husam Salih, two students at the University of Khartoum in Sudan who talked about starting a robotics lab under extremely challenging conditions.
Video Archive Sponsor
The video archive sponsorship supports the recording of the talks as well as the publication of the video archives online for the greater community.
If you are interested in finding out more about sponsoring ROS World please contact the executive committee. Or view our sponsor prospectus.
Register to Attend ROS World
Early Registration
If you register before or on September 17th, 2021, you will receive a promo code that gives you a 15% off discount on your purchase of ROS World 2021 t-shirts.
Late Registration
If you register after September 17th, 2021, you will still have the option to purchase a ROS World T-shirt; with a 10% off discount. Please be sure to review the shipping times in your confirmation email if you'd like to receive you shirt by the conference dates.
Ticket Prices
Tickets for ROS World 2021 are available on a sliding scale, We recommend the following prices:
$20.00 - Students & Hobbyists
$50.00 - Professionals
$100.00 - Professionals (When reimbursed by employer)
As an add-on to ROS World Registration, workshop tickets are also available on a sliding scale. We recommend the following prices:
$5.00 - Students & Hobbyists
$10.00 - Professionals
$20.00 - Professionals (When reimbursed by employer)
Day 0 -- 10/19/2021
Pre-conference Workshops
10:00 CST
14:00
DAY 1: 10/20/2021
All times are UTC-5 (US Central Daylight Time)
12:20 CDT
12:40 CDT
13:00 CDT
13:10 CDT
13:30 CDT
14:00 CDT
14:30 CDT
14:50 CDT
15:30 CDT
16:00 CDT
16:20 CDT
16:30 CDT
DAY 2: 10/21/2021
All times are UTC-5 (US Central Daylight Time)
As of July 9th, 2021. Workshop and Talk Submissions are Now Closed
As previously announced, ROS World 2021 will be held online, October 20th and 21st, 2021. The core of the conference is (and always has been) content from the community, and this year, we're looking for proposals for three different types of content.
Workshops: As in 2019, we will offer workshops on Day 0 of the conference. The goal of the workshops is to provide space for participatory/interactive experiences between the presenter(s) and the attendees and the chance to go more in depth into a subject than a regular talk could allow.
Talks: The standard presentation format is the talk, with the presenter(s) talking live about a specific topic, with a brief question period at the end, fitting into a 10, 20 or 30 minute time slot.
Videos: At a later time frame, we will be soliciting submissions for videos (following the deluge of submissions to ROS World 2020). Submissions will be opened after notifications for standard talks goes out, so that everyone can have a chance to present topics that are not yet included in the program.
We are also planning panels, keynote speakers and of course, lightning talks. The conference program will be a combination of single-track and multitrack.
Event Attendance
Due to the historic Covid-19 outbreak in New Orleans ROSCon 2021 has been forced to move online and become ROS World. Speakers will have the option to pre-record their talks or do them as part of the ROSCon livestream. If your talk has been selected by the ROSCon program committee a member of our team will reach out to coordinate speaking arrangements.
General Content Guidelines:
All topics related to ROS and ROS 2 are invited. Example topics include:
New packages / frameworks
Insights / improvements for existing packages
Case studies on unique ROS deployments / use cases
Developments for specific robots, sensors, platforms
Competitions / collaborations / initiatives
ROS in commercial / research / teaching environments
Standards / best practices / development tools
To get an idea of the content and tone of ROSCon, check out the slides and videos from previous years. We cannot offer content that is not proposed! If there is a topic on which you would like to present, please propose it. If you have an idea for an important topic that you do not want to present yourself, please post it for discussion on ROS Discourse.
Review Criteria
All submissions will be reviewed by the program committee to evaluate:
Relevance to the ROS Community - The proposed content should use ROS in a substantial way, but beyond that, the work must also be relevant and compelling to a general ROS audience. Writing a ROS driver for a specific piece of hardware is an excellent contribution to the community, but describing the intricacies of its firmware may not be relevant to this audience. Furthermore, content should be relevant to a global and diverse community.
Quality of Content/Impact - We encourage proposals to contain big ideas with high impact. Proposals should have a demonstrable quality as opposed to being purely theoretical.
Quality of Presentation - Articulating your ideas clearly and grammatically is a key prerequisite for giving a compelling live presentation.
Originality/Novelty - Content should be original and not something that has already been heard before. Will this be the 41st talk on a particular topic at ROSCon? Or are you presenting something new?
Open Source Availability - Because we are an open-source community, proposals for which the underlying code and other content is available under an open source license have a greater chance of being accepted. It is not a hard requirement, but proposals focused on proprietary systems should contribute in some other way to the community. Promises of future release are difficult to evaluate, so having your content released at the time of proposal submission is preferred.
Additional consideration will be given to balancing the subject matter and duration of presentation. We encourage proposals from presenters of all backgrounds and experience levels.
Workshop Submission Information
Workshop proposals must include:
Title (maximum 70 characters)
Presenter(s) (name and affiliation)
Summary - for public consumption, used in the program schedule (maximum 100 words)
Description - outline and goals, for review by the program committee. Describe the intended audience and what resources (if any) would be required. Please be sure to include enough information in your proposal for the program committee to evaluate the above review criteria.
Workshop proposals are closed as of May 7th, 2021. The chosen workshops will be published out no later than June 9th, 2021.
Talk Submission Information
Talk proposals must include:
Title (maximum 70 characters)
Presenter(s) (name and affiliation)
Desired talk length (10, 20, or 30 minutes)
Summary - for public consumption, used in the program schedule (maximum 100 words)
Description - outline and goals, for review by the program committee. Describe the intended audience and what they can expect to learn. Please be sure to include enough information in your proposal for the program committee to evaluate the above review criteria.
(NEW) Audio abstract - for review by the program committee. All talk proposals must include a (maximum) one minute recording of the presenter describing the content of the talk. It should be a single-take, responding as if a colleague asked what the talk was about. Please use either the mp3 or ogg file format.
(NEW) Key URL/Twitter handles - Optionally include a single link/Twitter handles to be associated with talk in publicity materials.
As of July 9th, 2021, the submission window has closed. We are no-longer accepting talks.
Submit these files to the ROSCon 2021 Hot CRP Website. Talk proposals must be submitted by July 9th, 2021. The program will be announced August 17th, 2021.
If you have any questions/comments/firmware patches, please email roscon-2021-oc@openrobotics.org
Program Co-Chairs:
ROS World Lightning Talks
Lightning talks are one of the most anticipated parts of any conference and they are a great way to get your new package, robot, research, development process, or idea in front of a larger audience. We're hoping to replicate the ROSCon lighting talks at ROS World again this year (and no, we're not going to mix them in with commercials again ;) ). Our approach for this year is to allow the community to submit short videos that we use during ROS World. We plan to take approximately the best two dozen or so videos and mash them up into a super cut that will play in between ROS World sessions.
We're looking for all sorts of videos from the ROS community, and as such we're open to videos related to any ROS topic you deem appropriate. Got a cool new robot? That's worth a video. Have a great package that could use a few more maintainers? That's worth a video. Want to ramble about your software pet-peeve for ninety seconds? Be our guest. Anything goes.
We're pivoting really quickly between ROSCon and ROS World this year; as such lightning talks are going to come down to the wire. I want to give the following guidance about submitting your videos this year:
General Guidance
The videos will be reviewed by a team of reviewers from the ROS community.
We do not collect reviewer feedback and we WILL NOT be able to give you feedback on why your video was not selected.
Due to time constraints we will not be able to notify you if your video is selected or not.
We will automatically reject your video if it does not meet our requirements (i.e. too long, wrong format, etc).
We may use your video content in future projects. By submitting your video you consent to this usage.
Due to the volume of videos we receive we are not able to replace or modify your video once it has been submitted.
Content Guidance
Due to time constraints we are not able to answer your questions or workshop your video's content. Please use your best judgement.
Keep it pithy. The shorter the videos the more videos we can feature. I can't stress this enough.
Use your video to grab the audience's attention and then tell them where they can find more information.
Keep it real. We want to see real ROS users solving real problems. We want to see working robots, exciting demos, and informative tirades as much as possible.
Have fun and make it fun. ROS World is a long day and audience fatigue is real.
Recording narration over a handful of slides is perfectly fine! Just keep it interesting, short, and informative.
Last year our guidance to the reviewers was to show preference to, "real robots solving real problems." Our guidance to the reviewers this year is to show preference to "short, smart, & awesome" videos
Lightning talks are not a platform for free advertising. Please do not submit your existing marketing video.
We're still finalizing the details but the parameters for a video submission are as follows:
Immediately related to ROS and the ROS community
Less than 120 seconds – keep it pithy
Format: MP4
Resolution: 1920 x 1080p (full HD) preferred, minimum 1280 x 720 p
File size: 500MB - 1GB. Files should not exceed 1GB.
Audio: Stereo is preferred, mono is acceptable
Please use a consistent file name of _
The videos don't need to be overly produced but they should be short, clear, and to the point.
We're still finalizing the process and due dates for video submissions but our preliminary due date for videos is in September 29th, 2021 at 11:59pm PST. THERE WILL BE NO EXTENSION AND NO LATE SUBMISSIONS WILL BE ACCEPTED.
ROS World 2021 Diversity Scholarships
Pedro Xavier, a 2018 ROSCon diversity scholar from Brazil, shares his experience.
The ROS World 2021 organizing committee aims for ROS World to represent the entire ROS community, which is diverse and global. In addition to promoting technology that is open source, we strive to ensure that our community is as open and accessible as possible. Inclusion and diversity benefit the ROS ecosystem as a whole.
Whoever you are, whatever you do, and wherever you do it, if you're interested in ROS, then we want you to join us at ROS World. To help reduce financial barriers to conference attendance, the ROSCon Diversity Committee is offering a limited number of scholarships to members of traditionally underrepresented groups in the robotics community. Thanks to the support of the program's sponsors, each scholarship includes:
one complimentary conference registration;
three nights' hotel accommodation; and
a travel stipend (limited to those participants whose travel to the conference would otherwise be infeasible).
All other expenses (including any visa requirements) will be the responsibility of the participant.
Please note the following about the scholarship program:
To maximize the impact of scholarship funds, scholarship recipients will be asked to share a room with another recipient. Under special circumstances alternative arrangements can be accommodated. As a special case for ROS World 2021, given the global pandemic, we will not ask scholarship recipients to share hotel rooms.
Participants will be responsible for covering their travel expenses up front. The travel stipend will be provided on-site at the conference.
Eligibility
We invite applications from members of groups that have been traditionally underrepresented in the robotics community, including but not limited to: women, people in LGBTQIA+ communities, people with disabilities, people from racial and/or ethnic minorities in the robotics community, and people from developing nations who may not otherwise be able to attend ROSCon. Previous ROSCon Diversity Scholarship recipients are not eligible to re-apply.
Review Process
The ROS World Diversity Committee reviews applicants according to the following criteria:
How will the applicant increase the diversity of ROS World?
How will the applicant contribute to ROS World through their attendance?
Is the applicant engaged with the ROS community?
The applicants who are reviewed most favorably, subject to available funding, are offered scholarships. We always receive more good applications that we are able to fund. The most common reason for a less favorable review is lack of effort shown in the application, such that we are unable to meaningfully review the candidate. Please take the time to completely and thoughtfully complete the scholarship application.
Impact
We are proud to share the following feedback from past Diversity Scholars:
The ROSCon Diversity Scholarship Program provided me with an opportunity that would have been completely impossible without it. I was able to attend my first robotics conference and feel empowered to keep working to try and make a positive impact on this community. Also, it was very encouraging to see so many companies stepping up to promote and enable diversity within their companies and the robotics community. Thank you!
ROSCon 2017 scholarship participant
ROSCon has been an incredible experience. It is really encouraging to see that everyone in the robotics community is really welcoming and willing to share their expertise. I learned a lot and I met incredible people. This experience inspired and motivated me to contribute more to the robotics community and make a positive impact.
ROSCon 2018 scholarship participant
We also have a blog post of the 2017 Diversity Program.
Diversity Scholars Sponsors
The ROSCon Diversity Scholarship is made possible thanks to sponsor organizations from the ROS community.
If your organization is interested in getting involved in the Diversity Program, please contact us at roscon-2021-oc@openrobotics.org
How to apply
To apply, fill out this form by July 16, 2021, describing how you are involved with ROS and the robotics community, and what you hope to get out of attending ROSCon. Scholarships will be awarded based on a combination of need and impact. Every applicant will be notified of the outcome of their application.
Travel restrictions to the United States
Please note that as of Wednesday, April 7, 2021 travelers who have been physically present in the countries listed on this CDC page may be prohibited from entering the United States. On Wednesday, April 7, 2021 this list includes China, Iran, Austria, Belgium, Czech Republic, Denmark, Estonia, Finland, France, Germany, Greece, Hungary, Iceland, Italy, Latvia, Liechtenstein, Lithuania, Luxembourg, Malta, Netherlands, Norway, Poland, Portugal, Slovakia, Slovenia, Spain, Sweden, Switzerland, Monaco, San Marino, Vatican City, United Kingdom, Republic of Ireland, Brazil, and South Africa. We encourage everyone to submit a scholarship application and as the conference approaches and the travel situation is updated we will provide further information. This year will also have a live stream to accommodate those who would prefer, or are required, to remain at home.
Past Events
ROSCon has been held annually since 2012. If you'd like to know more we have archives of all the past programs with recordings of the talks and most of the slides. The sites can be found at the locations below.
Code of Conduct
All attendees, speakers, sponsors and volunteers at our conference are required to agree with the following code of conduct. Organisers will enforce this code throughout the event. We expect cooperation from all participants to help ensure a safe environment for everybody.
The Quick Version
Our conference is dedicated to providing a harassment-free conference experience for everyone, regardless of gender, gender identity and expression, age, sexual orientation, disability, physical appearance, body size, race, ethnicity, religion (or lack thereof), or technology choices. We do not tolerate harassment of conference participants in any form. Sexual language and imagery is not appropriate for any conference venue, including talks, workshops, parties, Twitter and other online media. Conference participants violating these rules may be sanctioned or expelled from the conference without a refund at the discretion of the conference organizers.
Attendee Health and Safety
New to the Code of Conduct for 2021
With regards to attendee health and safety during the ongoing COVID-19 pandemic, ROSCon will be following all applicable local public health guidelines in order to provide as safe an environment as possible when meeting in person for ROSCon 2021. This segment of the Code of Conduct may be revised as needed to reflect the latest guidance and is current as of 6/16/2021.
ROSCon encourages attendees to be fully vaccinated prior to arriving onsite at the conference. In addition, the organizers ask that you:
Follow relevant guidance provided by the World Health Organization (WHO), or your local health authority.
Adhere to government-issued travel restrictions and guidance issued by the region you will be traveling to and the region you are traveling from (including compliance required by airlines or other travel services).
Evaluate your own health and that of people you are in close contact with; Contact the ROSCon organizers if you have concerns.
Stay home if you feel sick and seek medical attention at any time if you feel unwell or are experiencing flu-like symptoms.
Follow guidance from your local health authority for everyday preventive actions to help the spread of respiratory viruses. For more recommendations, see the CDC's Covid-19 travel guidelines.
The Less Quick Version
Harassment includes offensive verbal comments related to gender, gender identity and expression, age, sexual orientation, disability, physical appearance, body size, race, ethnicity, religion, technology choices, sexual images in public spaces, deliberate intimidation, stalking, following, harassing photography or recording, sustained disruption of talks or other events, inappropriate physical contact, and unwelcome sexual attention.
Participants asked to stop any harassing behavior are expected to comply immediately.
Sponsors are also subject to the anti-harassment policy. In particular, sponsors should not use sexualised images, activities, or other material. Booth staff (including volunteers) should not use sexualized clothing/uniforms/costumes, or otherwise create a sexualised environment.
If a participant engages in harassing behavior, the conference organisers may take any action they deem appropriate, including warning the offender or expulsion from the conference with no refund.
If you are being harassed, notice that someone else is being harassed, or have any other concerns, please contact a member of conference staff immediately. Conference staff can be identified as they'll be wearing badges as well as there will be staff at the registration desk.
Conference staff will be happy to help participants contact hotel/venue security or local law enforcement, provide escorts, or otherwise assist those experiencing harassment to feel safe for the duration of the conference. We value your attendance.
We expect participants to follow these rules at conference and workshop venues and conference-related social events.
Social Media